London Speaker Bureau's annual event, The Business of Innovation, brings together 'recognised innovators' from across the globe to share their personal perspectives on The Business of Innovation.
This year on the 12th October at the Raffles City Convention Centre in Singapore, London Speaker Bureau welcomes Zev Siegl, Kinvara Balfour, Lorraine Hahn, R. Gopalakrishnan, Gurmit Singh, Azran Osman-Rani, May Schooling, and Jon Jandai will discuss the future of innovation and what it takes to succeed today and in the coming years.
Over the past 5 years, The Business of Innovation has been committed to helping business leaders like you lead more effectively in this turbulent and ever-changing world. The event is one of the most powerful conferences available for leaders, and each year features a world-class lineup of speakers discussing the key trends in the business today.
Read more on each of the speakers of the line up here:
Zev Siegl is the co-founder of one of the world's most recognised brands: Starbuck's Coffee Company. A former history teacher, Siegl, along with the other two co-founders, realised their passion for coffee and began Starbuck's from their first storefront in Settle's historic Pike Place Market.
Following his departure from Starbucks Siegl became a serial entrepreneur, founding Quartermaine Coffee Roasters in Washington DC, Peerless Pie in Seattle, and more recently, BuckleUp.
Kinvara Balfour has advised and directed the launch of several technology start-ups in the UK and USA and is currently developing a docu-series about creative visionaries and mavericks, filmed with the iPhone.
Kinvara has had roles at Condé Nast and the Telegraph Magazine, where she was Style Editor.  In 2004, Kinvara was appointed London Editor, and then Senior International Editor, for US web phenomenon DailyCandy.com.
Lorraine Hahn has twenty years of experience in journalism focused on Asian business issues. She has interviewed business leaders and heads of state such as Vladimir Putin, Vincente Fox, Abdullah Badawi, John Howard, Helen Clark, Gloria Macapagla-Arroyo, Megawati Soekarnoputri, Thaksin Shinawatra, as well as moderated business dialogues with some of the of the world's most powerful CEOs.
Gopalakrishnan is a renowned Indian business leader and former Executive Director of Tata. He is currently a non-executive director of Tata Group Parent, Tata Sons, and several Tata companies.
He has served as Chairman of Unilever Arabia, as MD of Brooke Bond Lipton and Vice Chairman of Hindustan Lever.
Gurmit Singh is an actor, host and entrepreneur.  He started his career with Mediacorp, Singapore's largest media broadcaster and provider in 1994. He remained with Mediacorp for 20 years until his departure in 2014.
​He is best known for his portrayal of Phua Chu Kang in the Mediacorp produced television series "PCK Private Limited" that ran for 167 episodes from 1997 to 2007.
Azran Osman-Rani is the founding CEO of AirAsia X. He founded the airline at the age of 36 and grew the start up to be a disruptive innovator in the airline industry.
Therefore Osman-Rani's expertise lies in building 'attacker' businesses and leading teams from start up through to IPO. He also currently Chairs the Advisory Board for the Asia Business Centre.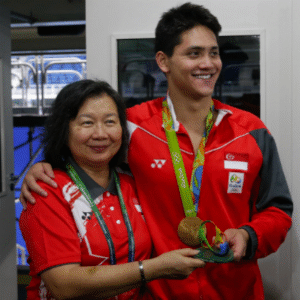 May Schooling is the mother of Olympic Champion Joseph Schooling. Joseph made history by becoming the first Singaporean to win a gold medal at the Olympics and setting an Olympic record and defeated his idol, swimming legend Michael Phelps.
May played a big part in making sure that he managed both school and sports well. The Schooling family was awarded the Straits Times Singaporean of the Year in 2016 for overcoming the odds as a family to create an historic moment for Singapore.
Jon Jandai is a self-proclaimed 'happiness' farmer from the northern part of Thailand. As a young man Jandai left his family farm to seek the richness of Bangkok, but after several years there, he decided to return to his village. He then started to experiment the different ways to build houses and to do farming. He began teaching the methods to other villagers and continues to create a movement of creating sustainable and affordable living in the countryside.
Jandai's TEDx talk, "Life is easy. Why do we make it hard?" has now been viewed over 5 million times. He questions the modern lifestyle where many are in a continuous cycle in trying to earn and gain more, but is, in fact, continually in shackles and lack the freedom to be happy.
The Business of Innovation is one of the most powerful conferences for leaders in Asia. Delegates attending will come away with an understanding of the role of innovation and leadership in their daily lives. Some of the key take-aways include:
Understanding the challenges and opportunities facing leaders today – globalisation, sustainability, new sources of competitive advantage, alternative business models and more.
Unparalleled access to the ideas and opinions of industry thought leaders plus fresh insights into tomorrow's major strategic issues.
Marketing, branding and innovative development solutions that will drive growth and profits.
Excellent networking platform for delegates.
Watch the Business of Innovation 2015:
To visit the official Business Innovation 2017 website, click here.
To register for the event, click here.
Interested in one of these keynote speakers for your next event?
Click on our 'contact us' page or send us an email.